Do you suffer from painful kidney stones?
Urocit®-K 15 mEq (Potassium Citrate) Extended-release tablets
may be right for you.
Urocit®-K 15 mEq (Potassium Citrate) Extended-release tablets
may be right for you.
How Urocit-K 15 mEq can help
If you have experienced a kidney stone, you know how painful it can be. Urocit-K, available in 3 dosage strengths, is a prescription treatment that restores the chemical balance in the kidneys which helps prevent kidney stones. It reduces the formation of several common types of kidney stones, including calcium oxalate and uric acid stones. The highest strength, Urocit-K 15 mEq, is designed to minimize the number of tablets you may need to take each day.
In clinical studies, Urocit-K kidney stone treatment:
Effectively treated a variety of stone conditions1
Kept new stones from forming in more than 90% of patients2,3,4
Understanding and preventing kidney stones
It's estimated that if a person gets a stone, there is a 30% to 50% chance of getting
another stone within 5 years.5 The good news is that most kidney stones can be
managed with a combination of medication, diet, and lifestyle changes.
The following educational materials are available for you to download and learn more about how
kidney stones develop, how they are treated, and what you can do to avoid getting them in the future.
This patient brochure provides simple and practical information about kidney stones for you to use to help reduce your chances of developing another stone.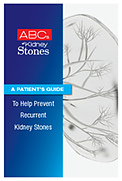 You can download a copy of this patient brochure, which provides dietary guidance by medical experts, via the link below. Available in English and
Spanish


Urocit-K for kidney stones is available in extended-release 15 mEq tablets, which may reduce the number of
pills you have to take every day.1
Ask your doctor about Urocit-K 15 mEq.
References: 1. Urocit-K [package insert]. San Antonio, TX: Mission Pharmacal Company. 2. Pak CYC, Fuller C, Sakhaee K, et al. Long-term treatment of calcium nephrolithiasis with potassium citrate. J Urol. 1985;134(1):11-19. 3. Preminger GM, Sakhaee K, Skurla C, et al. Prevention of recurrent calcium stone formation with potassium citrate therapy in patients with distal renal tubular acidosis. J Urol. 1985;134(1):20-23. 4. Pak CYC, Peterson R, Sakhaee K, et al. Correction of hypocitraturia and prevention of stone formation by combined thiazide and potassium citrate therapy in thiazide-unresponsive hypercalciuric nephrolithiasis. Am J Med. 1985;79(3):284-288. 5. Lipkin ME, Preminger GM. Demystifying the medical management of nephrolithiasis. Rev Urol. 2011;13(1):34-38.